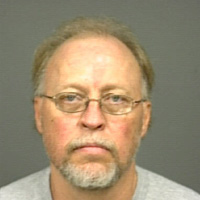 Michael George Johnson is a registered sex offender who is required to register as a result of four prior convictions for annoying and molesting children. His prior convictions date from 1990 to 2005.

Over a period of a few weeks in July, Johnson began initiating inappropriate sexual conversations with two male juvenile acquaintances, ages 16 and 17. While one of the juveniles was in Johnson's vehicle, Johnson went to an adult store to purchase adult merchandise and offered to let the juvenile borrow it if he wished. Johnson also offered to let the juveniles use his computer to view pornography. Johnson asked one of the juveniles to engage in sexual acts with him, but was refused.

During the investigation detectives became aware that Johnson was actively seeking to engage in sexual acts with multiple male juveniles. One of the juveniles overcame his embarrassment and fear over the situation and disclosed the crimes to a parent.

On Thursday, after being out of the county since mid-July, Johnson came to the San Luis Obispo Police Department to complete his required annual registration and was arrested on several new charges.