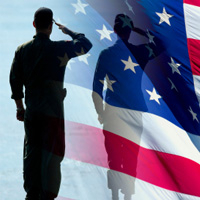 The San Luis Obispo County Veterans Services Office is excited to announce its new volunteer program. This program will give people in the community the opportunity to assist with various outreach programs like the Veterans Stand Down, VetSurf, Veterans Treatment Court and assist veterans as they come into the Veterans Services Office to seek benefits and services.
The County Veterans Service Office works as an advocate for those who have served in the U.S. Army, Marines, Navy, Air Force, Coast Guard, Reserves, National Guard and their family members in receiving the benefits and services earned through military service. These benefits and services include pension, service connected compensation, aid and attendance, housing, employment, counseling and much more. The Veterans Services Office also works with a network of providers to connect all veterans and their dependents with exactly what they need.
"Our office strives to make sure all veterans in the community receive the benefits and services they have earned. Hopefully enlisting the help of community members and fellow veterans through this program will give us the extra people in the field, at events and in the office to give our local veterans every opportunity they need to receive the benefits they have earned" said Dana Cummings County Veterans Service Officer.
The County has a long history of working with those who want to serve in the community as volunteers such as the volunteer sheriffs program, the library volunteer program and many others in various departments. Veterans Services now hopes to seek to engage the talents, skills and commitment of volunteers to serve the communities' 26000 veterans as well.
To sign up for the program please visit www.slovets.org and click on the volunteer link to download the necessary forms. Then call the Veteran Services Office at 781-5766 to set up an appointment to meet with staff and get started.