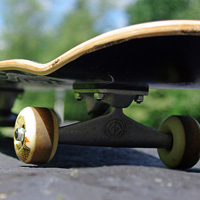 After completing an extensive planning and approval process, the City of San Luis Obispo is moving forward with plans to build a new SLO Skate Park at Santa Rosa Park. Construction of the new SLO Skate Park is slated to begin in mid-summer 2014, with a projected grand opening in spring 2015.
The approved SLO Skate Park consists of a 15,500-square-foot concrete park, accommodating a variety of uses for residents and visitors alike. In addition to the skate area, the project features several recreational opportunities including an outdoor amphitheater, a low impact fitness path, a streetscape plaza for spectator seating, farmers' markets, craft fairs and other events. Innovative public art will also be incorporated into the design of the new skate park.
The San Luis Obispo City Council approved the SLO Skate Park project with adoption of the 2013-15 Financial Plan in June 2013. Measure Y funding (a half-cent sales tax approved by voters in 2006) plays a major role in supporting this project. Other funding comes from Parkland Funds and a notable grant provided by the Tony Hawk Foundation.
Building a permanent concrete skate park in San Luis Obispo has been a goal for community members and user groups over many years. Continued opportunities to support and leave your mark on the SLO Skate Park are currently available. Community members and businesses interested in showing their support may now purchase personalized bricks of recognition which will be prominently and permanently placed in the outdoor amphitheater area. Personalized bricks in support of the SLO Skate Park may be purchased online at www.slocity.org/parksandrecreation/skatepark.asp.