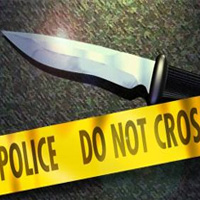 On Thursday, February 13, at approximately 10:00 p.m., the Paso Robles Police Department received a call from Twin Cities Community Hospital regarding a 29 year old male patient that had arrived with a stab wound to his torso. The wound required emergency surgery and the victim is currently listed in stable condition.
Through investigation, Officers determined that the incident occurred in the 2800 block of Park St. in the City of Paso Robles. Witnesses reported seeing the victim and suspect James Daniel Elliott get into a verbal altercation inside a residence, which then escalated into a physical confrontation.
According to the victim and witnesses, during the physical altercation, Elliott stabbed the victim with a knife and then fled the scene. On Saturday, February 15, at approximately 4:15 a.m., PRPD officers located suspect James Daniel Elliott in the 2800 block of Park Street in the City of Paso Robles. When Elliott saw the officers he fled on foot, but he was arrested without further incident in the 2800 block of Spring Street.
There were no injuries during this incident. Elliott was booked into the SLO County Jail on the following charges: Assault with a deadly weapon; witness intimidation; and resisting arrest .