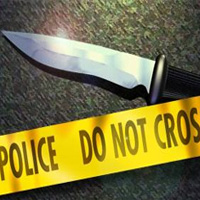 On February 02, at approximately 8:24pm, the Paso Robles Police Department received a 911 call from the 1000 block of Pioneer Trail in Paso Robles where a female caller reported two roommates were fighting, one had a knife, and medics were needed.
Officers arrived on scene to find the occupants of the residence cleaning up a large amount of blood on the floor. The 21 year old victim had been transported to Twin Cities Community Hospital by another roommate prior to Officers' arrival. The victim suffered several knife wounds to his abdomen, and defensive wounds to his hands. One of the wounds pierced his stomach, requiring emergency surgery. The victim is currently listed in stable, but serious condition.
Officers on scene were able to identify the suspect as 35 year old Guillermo Lopez, Jr. from Paso Robles. Officers and Detectives were able to locate Lopez at a residence in the 300 block of Via Ramona where he was arrested without incident. The weapon allegedly used in the crime was recovered from Lopez at the time of his arrest. Lopez was later transported to County Jail and charged with assault with a deadly weapon, a felony.