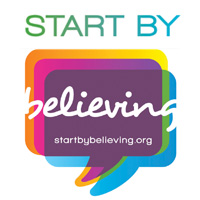 Chief Jerald Monahan of the Prescott Police Department and Past President of the Arizona Association of Chiefs of Police (AACOP) will visit San Luis Obispo on Monday, June 16, 2014 to meet with Police Chief Steve Gesell, Sheriff Ian Parkinson, RISE Executive Director Jennifer Adams, and others to discuss the Start by Believing public awareness campaign. The campaign launched in San Luis Obispo in January, 2013 and may be linked to the dramatic increase in reports of sexual assault received by the Police Department last year. The campaign is called Start by Believing, because a friend or family member is typically the first person a victim confides in after an assault, and each person's reaction is the first step in a long path toward justice and healing. Knowing how to respond is critical—a negative response can worsen the trauma and foster an environment where sexual assault predators face zero consequences for their crimes.
Research documents that rapists attack an average of six times, which means that one failed response can equal five more victims. Start by Believing leads the way toward stopping this cycle, by creating a positive community response, informing the public, uniting allies and supporters, and improving our personal reactions. The goal is to change our community and outcomes for victims, one response at a time.
"Victims of sexual crimes often choose to simply live with what happened rather than tell someone or ask for help…we are committed to doing our part to make it easier for victims to come forward," said SLO Chief of Police Steve Gesell. Chief Monahan led the Arizona House of Representatives to formally proclaim it as the first "Start by Believing State," and he looks to SLO leaders for guidance on how to successfully launch a comprehensive, communitywide campaign. His stated goal is to lead the way toward creating a "Start by Believing Nation." Newly-elected District Attorney, Dan Dow concluded: "The Start by Believing campaign had a tremendous impact by improving awareness in our community of the common myths about sexual assault."
Jennifer Adams, Executive Director of RISE added, "As the only resource for sexual assault survivors in SLO County, RISE is especially grateful to our partners in law enforcement for their support of this critical campaign."
The agencies responsible for launching the campaign in SLO County are prepared to respond to survivors in our county. If you or anybody you know has been sexually assaulted, help and resources are available 24 hours a day by calling RISE toll-free at (855) 866-RISE (7473) or 1-800-656-HOPE.