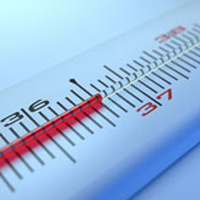 According to the National Weather Service, strong northwest to north winds and near critical humidity levels are expected today and into this evening. A dry cold front is expected to push across the region today. North winds should increase today along the western Santa Ynez range toward Gaviota. As the front pushes southward, expect northwest to north winds to increase across all areas by this afternoon.
The strongest winds are expected to occur in the mountains of the Santa Barbara County south coast today through this evening as high pressure builds across the district. Gusts to 60 mph or higher will be possible below canyons of the Santa Ynez range near Montecito mainly late this afternoon and evening. A moderate to high confidence on an elevated fire threat exists with low relative humidities, increased winds, and above normal temperatures for this weekend.
Weather is predicted to be very dry and warm Thursday through Saturday. In response to the predicted elevated fire danger, the Santa Barbara County Fire Department will increase its staffing level. The increased staffing level will include the following additional resources: three engines, one dozer, one water tender, one battalion chief and one dispatch captain.
These additional resources will be available to respond throughout the Santa Barbara County Operational Area. This increased staffing pattern will be reevaluated. During this time of elevated fire danger, citizens should take appropriate precautions.