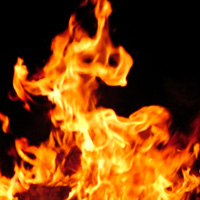 San Luis Obispo City Fire Department personnel responded to a reported structure fire in a garage at 158 San Jose Court in the City of San Luis Obispo at 11:05 earlier today.
The first SLO City Fire Department unit arrived within 4 minutes of being dispatched and found a rapidly spreading fire involving the attached garage of a 1,200 square foot single-story single-family residence. The garage was well involved with fire spreading into the attic of the home. The three adult occupants (one elderly) were able to successfully evacuate from the involved residence as units arrived.
The fire was quickly and aggressively attacked with three hose lines, confining the fire to the garage, and sparing significant damage to the attached home. Control was achieved within 15 minutes of the initial 9-1-1 call.
The City responded a deputy fire chief, a battalion chief, a ladder truck, and three fire engines. Cal Fire also responded a battalion chief and a fire engine as part of the automatic aid agreement. The Fire Marshal, SLOPD officers, an ambulance, and utility companies were also requested and responded.
Operations utilized to control the incident were fire attack, vertical ventilation, interior search and exposure protection, shut down of the power utilities, and salvage of valuables that were protected from fire damage. The American Red Cross also responded and is providing temporary housing and assistance to the three displaced occupants.
No injuries occurred to the occupants or firefighters. The loss/damage to the structure and contents is estimated at over $30,000. According to Fire Marshal Roger Maggio, the fire started in the garage, which had been converted into a living space periodically utilized as a bedroom. The cause of the fire was accidental and involved a cigarette lighter used earlier in the morning by an occupant to light a cigarette.
The public is reminded to ensure their place of residence has working smoke detectors present.