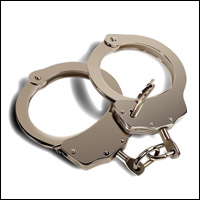 The suspect wanted for robbing the Mobil Gas Station on Los Positas Road in Santa Barbara on February 2013 is in custody. New DNA evidence from the crime scene indicated that 35-year old Travis Rosenblatt committed the robbery. Rosenblatt had previously been convicted of committing a bank robbery in Santa Barbara in 2006.
Sheriff's Detectives obtained a search and arrest warrant and the Special Enforcement Team surrounded Rosenblatt's Santa Barbara home at 5:00 yesterday morning. Rosenblatt refused to leave his home, despite being ordered to come outside.
A reverse 911 was sent to residents in the area notifying them that the Sheriff's Office was conducting an operation and they needed to stay in their homes. Almost two and a half hours later, Rosenblatt came out of his bedroom and was taken into custody without incident. Rosenblatt is charged with armed robbery and is at the Santa Barbara County Jail on $500,000 bail.