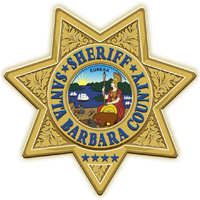 The Santa Barbara County Sheriff's Office is releasing the name of the suspect from the officer involved shooting which occurred on Sunday night, October 6, in the 3200 block of Beach Club Road near Carpinteria. The suspect is 29 year old Jeremy Leon Bordegaray of Cayucos in San Luis Obispo County. Bordegaray remains in critical condition at a local hospital.

Due to his medical condition, Bordegaray is booked in absentia for the following charges: assault with a deadly weapon against a peace officer, being a felon in possession of a firearm, possession of a stolen vehicle, possession of controlled substance while armed with a firearm, possession with the intent to sell methamphetamine, a parole violation, trespassing, resisting arrest and providing false information to a peace officer.
As a clarification to our previous release, a concerned neighbor notified the property owner, who was out of town, of a possible trespasser at the residence. The property owner called Sheriff's dispatch to report the suspicious activity and requested Sheriff's Deputies to respond.