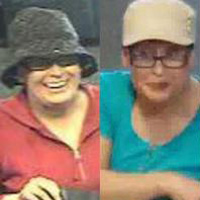 A woman matching the description of the Central Coast bandit was booked in the San Luis Obispo County jail Friday, just a few hours after officials arrested a woman in connection with an attempted bank robbery and car chase.

50-year-old Cristina Fernandez Padilla was booked in the county jail. She was charged with counts of robbery in Pismo Beach, Paso Robles, San Luis Obispo and Atascadero.
Her bail is set at $290,000.

Officials have not confirmed if this is the Central Coast Bandit.