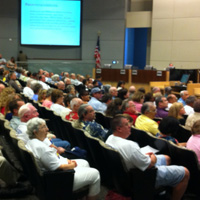 A town hall meeting will occur Friday, December 20 at 9 a.m. to discuss the formation of a parcel tax supported Community Facilities District (CFD). The CFD purpose is to fund full time staffing for the Oak Shores fire station. The tax proposal is a community resident driven proposal to augment the struggling small volunteer force with full time firefighter staff.
Citizens asked Supervisor Frank Mecham and Fire Chief Robert Lewin to explore the process and cost to provide full time firefighters. Attendees will hear presentations by CAL FIRE/County Fire Chief Lewin and Mr. Habib Issac, the consultant hired by the county to prepare the process and costs. Mr. Issac, from Raftelis Consulting, will present the steps necessary to establish the CFD, required voter approval, and possible tax rate per parcel.
The boundaries of the proposed district include Oak Shores, Bee Rock, Christmas Cove and other adjacent areas on the north shore of Lake Nacimiento. Meeting will be at the Oak Shores Community Association office, 2727 Turkey Cove Road, Oak Shores.