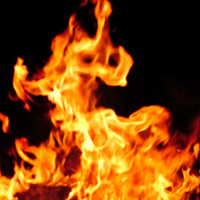 Two fires occurred in the Central Coast this past weekend. The first fire happened at a home on Hemlock Avenue in Morro Bay at 1:39 A.M. The Morro Bay Fire and Police Department found flames present at the main electrical panel on the exterior of the building. The fire was extinguished within minutes and contained to the outside of the building.
The residence was occupied and evacuated with no reported injuries. There was approximately $2,000 in damage. The second fire occurred at the Flying Flags RV Park in Santa Barbara County, where a neighbor got three people out of a cabin on fire late Saturday night. The fire started at around 11:10 in a 1,000 square foot cabin with a family sleeping inside.
A neighbor discovered the fire and woke up the family to get them out of the building. Firefighters say the family could have been seriously injured or killed if their neighbor hadn't warned them about the fire. About half of the cabin was damaged, and the cause of the fire is still under investigation.