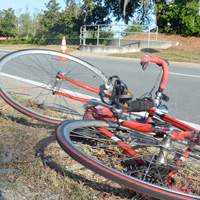 On January 22 at approximately 11:15 in the morning, SLOPD officers were dispatched to a traffic collision between a vehicle and bicyclist on Tank Farm Rd near the entrance to the Marigold Shopping Center.
The bicyclist, 68-year-old Ernie Brink of San Luis Obispo, sustained moderate injuries and was transported to Sierra Vista hospital by paramedics where he was admitted. The driver of the vehicle that struck Brink fled the scene of the collision in an unknown direction.
Due to the lack of witnesses, the collision is still under investigation to determine the cause and to identify the driver who fled the scene. The vehicle that is believed to have struck Brink has been recovered and impounded by the Police Department to be processed for evidence.
Anyone who witnessed this collision is encouraged to contact the San Luis Obispo Police Department at (805) 781-7312.